Living in Medellín
Located in the middle of Colombia, tucked into a valley surrounded by the Andes Mountains is Medellín, Colombia´s second largest city.  Known as the City of Flowers, Medellín is attracting more and more retirees who want to live an outdoor-based, active lifestyle in a city that has near-perfect weather, affordable healthcare, good-value real estate, and a lower cost of living than many cities in the U.S.
Medellín is strategically situated practically equidistant from Colombia´s other major cities of Bogotá, Cali, and Bucaramanga, making it an excellent hub for both commerce and tourism. Although the greater Medellín area has nearly 3 million people living there, the city really feels more like a lot of neighborhoods connected to each other by green spaces.  Accented with green parks, flowers that are always in bloom, gurgling brooks, and hundreds of birds in brilliant colors, Medellín feels smaller than the metropolis that it is.



Once known as the most violent city in the world, Medellín has been transformed during the last two decades, and is now being recognized as the City of Innovation. In 2013, Medellín beat out New York City and Tel Aviv to be named "The Most Innovative City in the World" by the Wall Street Journal and Citibank. The prestigious "Lee Kuan Yew World City Prize" was bestowed upon Medellín in 2016 as recognition for its transformation into a sustainable, viable city.
The José María Córdova International airport is just 45 minutes outside of Medellín. It is the second busiest airport in Colombia and has direct flights to and from several major U.S. cities.
Retire in Medellín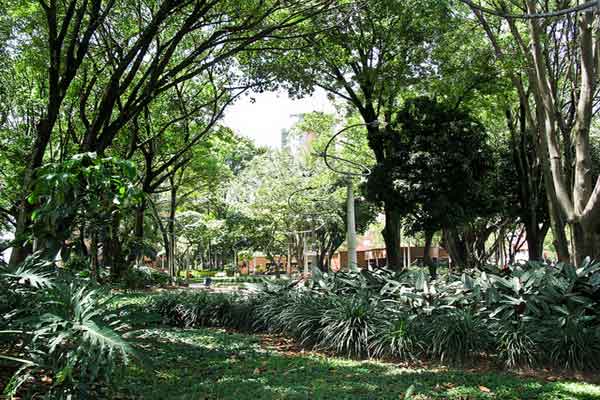 Retirement should mean doing more of what you want to do, and less of what you don´t want to do.
So, if you want to lead an active lifestyle, Medellín has something for everyone. Golf courses, fitness clubs, hiking trails and tennis are all available to help keep you fit. Every Sunday and most holidays, the city closes down large sections of some of the major roads to traffic and transforms them into pedestrian walkways. These "ciclavias" fill up with joggers, cyclists, and families just out for a stroll.  Street vendors offer juice, water, and cut fresh fruit to the participants.
You can find expats living in most areas of the city, but the highest concentrations are in the neighborhoods of El Poblado and Laureles. El Poblado, is known for its terracotta highrise apartment buildings and steep hills. It offers some of the most impressive mountain and city views. The Laureles neighborhood is flat, making walking effortless.
Access to inexpensive and high-quality healthcare is always on the mind of retirees. You will be glad to know that eight of Medellín´s hospitals ranked among the top 43 of all Latin America, including Hospital Pablo Tobón Uribe that earned Joint Commission International accreditation.
For those who love to cook, you will find farmer's markets brimming with fresh produce. But if you would rather let others do the work, there are hundreds of restaurants ranging from traditional Colombian cuisine to five-star gourmet dining. Meals will run you a third to half of what you would pay back home, so eating out doesn´t have to be a once in a while treat.
Lifestyle in Medellín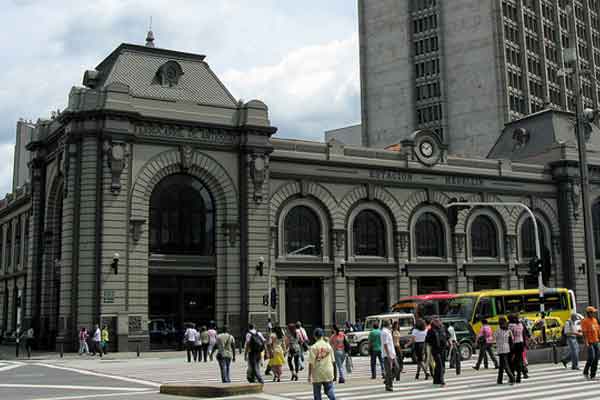 Medellín enjoys a spring-like climate year-round. With daytime highs in the low to mid 80´s F, and evening temperatures in the mid 60´s F, there is never a need to wear anything heavier than a light jacket, regardless of the month on the calendar. There is no need for heating or air conditioning either. Even though the city is 6 degrees north of the equator, being at 5,000 feet above sea level creates a bug-free environment with very little humidity.
Medellín is the only city in Colombia that has a metro system. The above-ground two-line system connects the north with the south, and the downtown with the west. The Metroplus rapid transit line interconnects with the Metro, making getting around the city easy. Add to this the multitude of metered yellow taxis, and there really isn´t any need to own a car.
With over 30 universities, an array of art and history museums, theaters, restaurants, and several sports complexes, Medellín has a very cosmopolitan vibe. The Metropolitan Theater presents a varied program of international classical music, jazz music, and dance performances. The Museo de Antioquia, located just off the Parque Berrio Metro stop, is home to a large collection of paintings and sculptures by Medellín native, Fernando Botero. As you walk through the plaza in front of the museum, make sure you rub one of his many larger-than-life bronze statues for good luck.
Medellín is also known for its festivals. From Colombiamoda (fashion week) in July, to Feria de las Flores (flower festival) in August, to the International Jazz Festival in September, to the most spectacular Christmas light displays in December. there is rarely a dull moment in the city.
Cost of Living in Medellín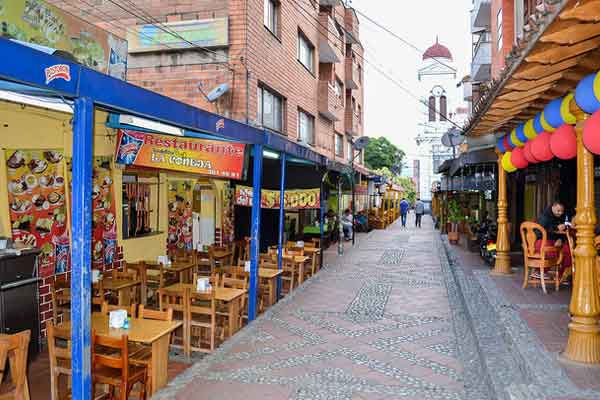 Your cost of living will depend on what type of lifestyle you want to have. Medellín is less expensive than many comparable U.S. cities. On average, living expenses are 60% to 70% less than the major U.S. cities of Boston, Los Angeles or Chicago.
Below is a sample monthly budget for a couple living in Medellín:
| | |
| --- | --- |
| Expense | U.S. Dollar |
| Rent (3 bedroom/2 bath apartment,-unfurnished) | $400 to $1,000 |
| Electricity | $40 |
| Water & sewer | $24 |
| Gas | $10 |
| Telephone (land and cell) | $30 |
| Internet | $15 |
| Groceries | $300 |
| Transportation (buses and taxis) | $45 |
| Entertainment (evenings out, etc.) | $200 |
| Health plan (public basic) | $80 |
| Maid service (once per week) | $50 |
| Clothing and personal care | $200 |
| Total | $1,394 to $1,994 |
10 Things to do in Medellín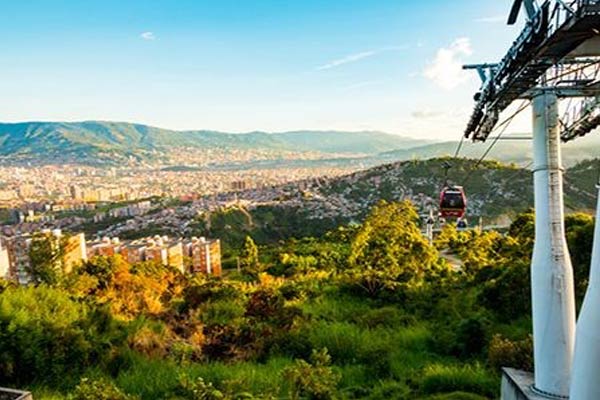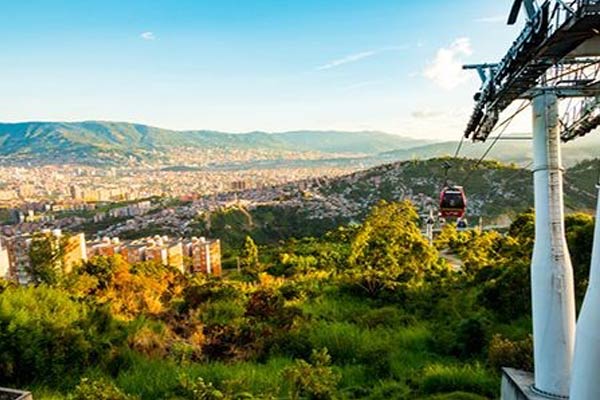 By Nancy Kiernan



I have been living in Medellín, Colombia's second largest city, full time since May 2012. It is a vibrant cosmopolitan city nestled in the heart of the Andes Mountains. The greater metropolitan area covers 445 square miles along the Aburrá valley and up the sides of the majestic, verdant, green mountains.
Thousands of tourists come to Medellín to enjoy the perfect, year-round, spring-like weather and to soak up the local culture. One of the dangers of spending time in Medellín is that you may never want to leave. Many visitors have fallen in love with the city and chose to call it home. There is so much to see in the "City of Eternal Spring" that it is difficult to decide what to do.
Here are a few suggestions that are a good mix of cultural, daily life, and active recreational activities.
1. Shop in El Hueco (the hole)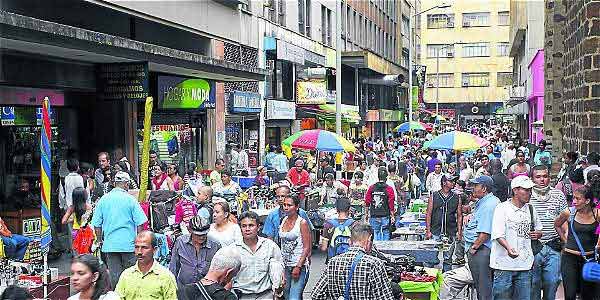 If you love finding a bargain, then you must check out El Hueco in the El Centro (downtown) part of the city. Take the Metro to the San Antonio stop and walk through the area which is spread out over several blocks. Thousands of shops, from tiny one-person stalls to larger stores, are selling everything you can possibly imagine.
The "mini-malls" look like simple doorways, but when you enter, they are filled with many small stores, usually based around a theme, such as running shoes, jewelry, cosmetics, and electronics. Unfortunately, there isn't a map indicating where the stores are located, so it takes quite a while to get familiar with the best shops. If you see something you like, buy it ri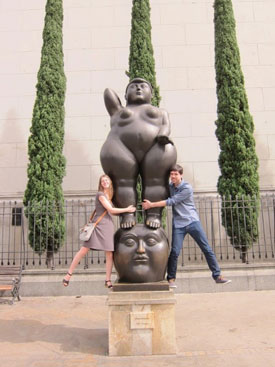 ght then, because you may not be able to navigate your way back to that same shop again.
2. Rub a Statue for Luck in Botero Plaza
Take a stroll through Botero Plaza, home to 23 larger-than-life bronze statues created and donated by Medellín's own famous artist, Fernando Botero. You can see bright shiny spots on the statues where the oxidation has been worn away from all the visitors who rub the statues for good luck. And of course, you must get your picture taken on one of the statues.
The plaza is the gateway to the Museo de Antioquia which dedicates its entire top floor to a large collection of Botero's paintings and sculptures. While some people call Botero's subjects "fat", Botero considers them "voluminous." It is his expression of shape, proportion, and size.
3. Enjoy Graffiti-Street Art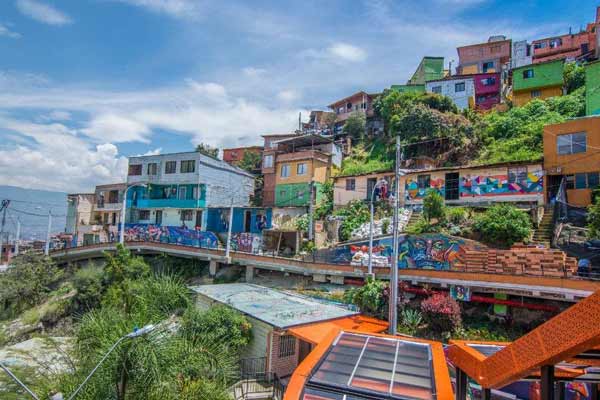 Graffiti in Medellín is so much more than random "tagging" in public spaces. It has become its own form of art. Throughout the city gray concrete walls have been transformed into vibrant murals that attract art lovers and tourists. You can find examples pretty much anywhere you walk, but the best way to experience the art is to take one of the city's graffiti tours through Comuna 13.
Once considered Medellín's most crime-ridden neighborhood, it now houses the Casa Kolacho community center. One of the local hip hop artists will take you through the neighborhood with walls and buildings covered in local street art and explain how the area came back to life.
4. Ride the Metrocable to Parque Arvi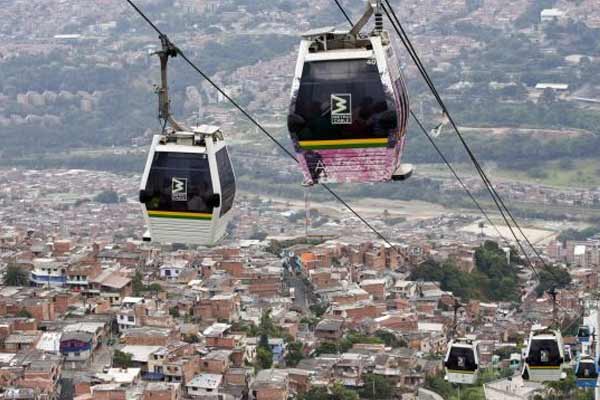 The expression "getting there is half the fun" certainly applies to Parque Arvi. It is an ecological nature preserve in Medellín known for its wildflowers, butterflies, and hiking trails. While you can get there by car, the fastest and most enjoyable way to get there is to take the Metrocable from the Acevedo station of the Metro.
The gondola cars carry you safely up the side of the mountain. The entire half-hour ride is full of photo opportunities. The city looks more expansive as you go further away from it. Your ride takes you over local neighborhoods filled with kids playing in the school yard, corner shops, and churches. Once you reach the top you can buy a snack at the outdoor food market, which is located next to the gondola station.
5. Enjoy Medellín's Climate Along the Ciclovia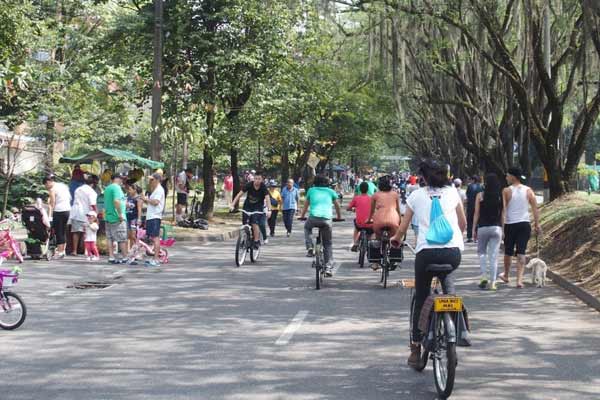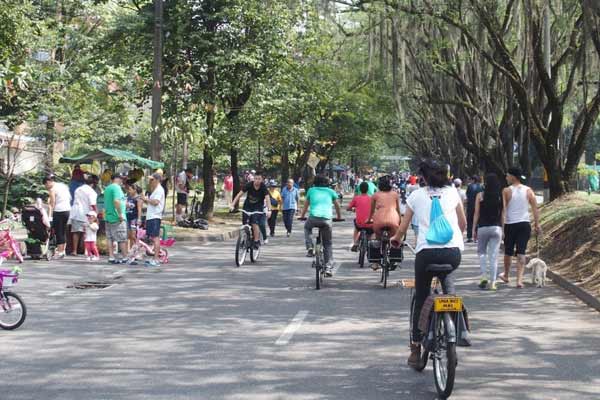 Medellín's perfect spring-like weather lets you be outside and active all year round. This certainly contributes to a healthy lifestyle. One perfect example is the ciclovia. Every Sunday and during the holidays, several major roads are transformed into pedestrian ways.
From early morning until 1:00pm these streets are closed to motor traffic and are filled with walkers, bicyclists, joggers, and families out for a stroll. Vendors set up stalls along the side of the roads and sell bottled water, fresh fruit, and juice to the passersby. Bicycle repair tents are dotted along the roads to help you with a broken chain or flat tire.
6. Eat Bandeja Paisa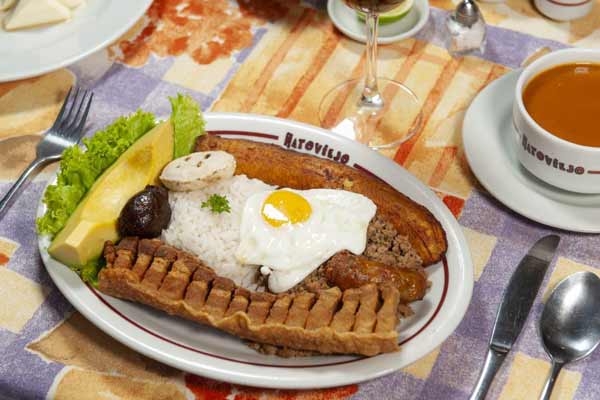 Mom always told you to clean your plate at mealtime. While that is good advice, you may have trouble doing that with Medellín's local specialty, bandeja paisa. This platter of food will test the limits of even the hungriest person. Feast on rice, frijoles (beans), ground beef, fried egg, chicharron (fried pork belly), morcilla(blood sausage), avocado, salad, and fruit juice to wash it all down. One of the best ways to know a country is to eat its food. It captures the soul and spirit of the people and the region.
The people of Medellín (paisas) are warm and generous, just like the city's signature dish. You can find this on the menu at any restaurant that serves local Colombian food. My favorite spot to enjoy this dish is Hatoviejo. They have three locations around the city. I suggest you bring a friend and share.
7. Visit a Farmer's Market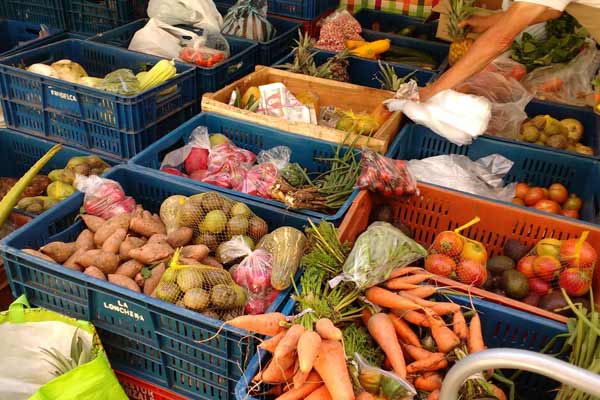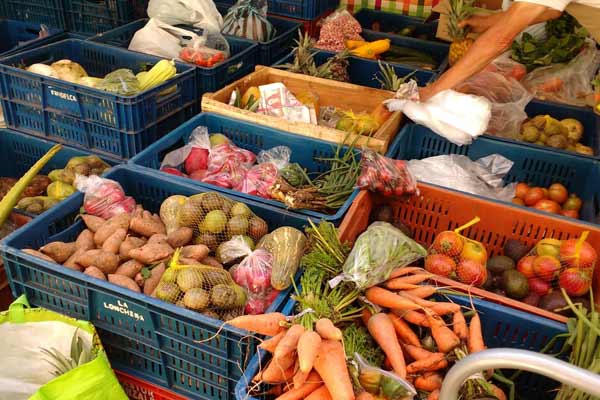 One of the great things about Medellín is the abundance of fresh, locally-grown produce. And the best place to buy it is at a farmer's market. My favorite market is in Parque La Presidenta on Poblado Avenue.
Every Sunday farmers put out crates filled with delicious greens, tomatoes, squash, carrots, onions, and fresh herbs, just to mention a few items. Vendors have small kiosks selling natural honey, bread, juices, spices, natural beauty products, and of course arepas (corn cakes). If you need a quick "pick-me-up" you simply must try some guarapo (juice from pressed sugar cane). You can watch them make it fresh.
8. Step Back in Time—Visit Puebito Paisa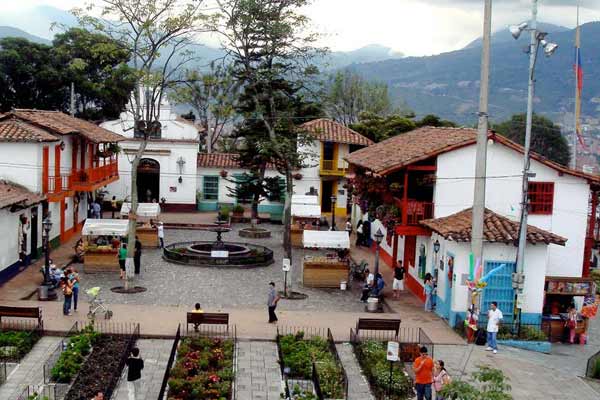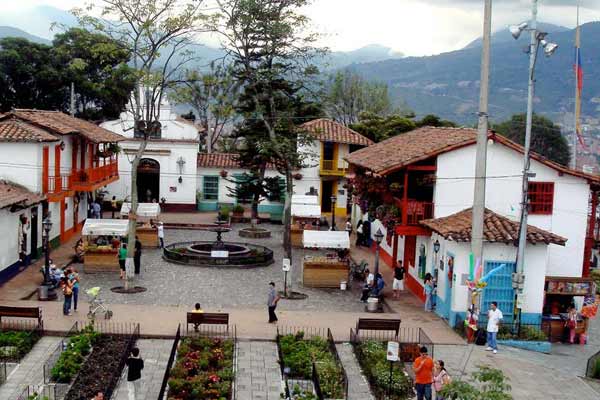 While some people consider this a tourist trap, I think a visit to Pueblito Paisa is worth an afternoon or evening. Built on top of Cerro Nutibara (Nutibara Hill), Pueblito Paisa is a replica of a 1900's Antioqueño town complete with a cobblestone square, fountain, church, town hall, and a one-room school house. The Medellín city museum is also located on the property. It is filled with historic black and white photographs as well as a 3DD scale model relief map of the city. For less than $1.00 entrance fee you can learn about the history of Medellín's construction.
Vendors sell ice cream, snacks, and complete meals (including bandeja paisa) in the food court area. This is a great break from the hustle and bustle of the city. Be warned it becomes crowded at night since it is a perfect vantage point to see Medellín's night lights sparkle and shimmer.
9. Relax in the Botanical Gardens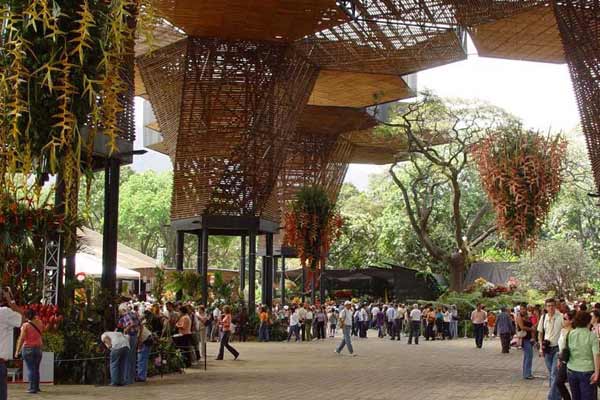 Jump off the A line of the Metro at the Universidad station and jump into 34 acres of tranquil bliss. The Botanical gardens offer an oasis in the middle of the city of Medellín. You can spend hours wandering through the paths lined with towering green trees, bring a picnic lunch and relax on the lush lawn, watch the ducks and turtles swim in the pond, get up close to the iguanas in the "jungle" section, or have a bright blue butterfly land on you in the butterfly house.
The gardens are free to the public except during the Flower Festival in August. I strongly suggest you take time to eat lunch or dinner at In Situ restaurant inside the park. Enjoy gourmet food and drink great wine while surrounded by nature.
10. Tour a Castle at El Castillo Museum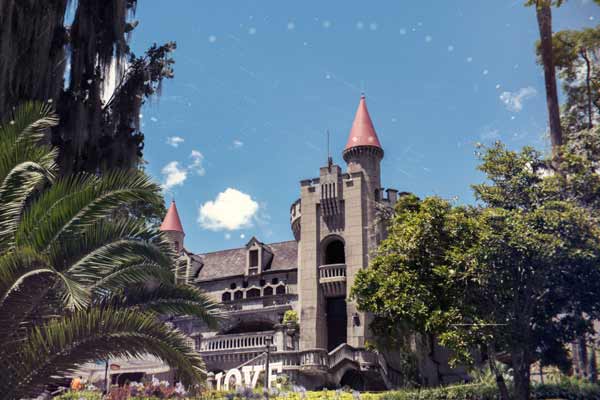 It is hard to believe there is a medieval Gothic-style castle in the heart of Medellín's El Poblado neighborhood. The castle was built in 1930 as a private home surrounded by acres of beautiful gardens, flowers, and fountains. Nowadays it is a museum that attracts tourists and lovers of art, history, and culture.
In addition to the museum, El Castillo hosts public events, such as food fairs and concerts, as well as offering art and music workshops for both adults and children. At Christmas time I particularly enjoy viewing the exhibition of the collection of mangers scenes.
Medellín: The Best Retirement Destination You've Yet to Discover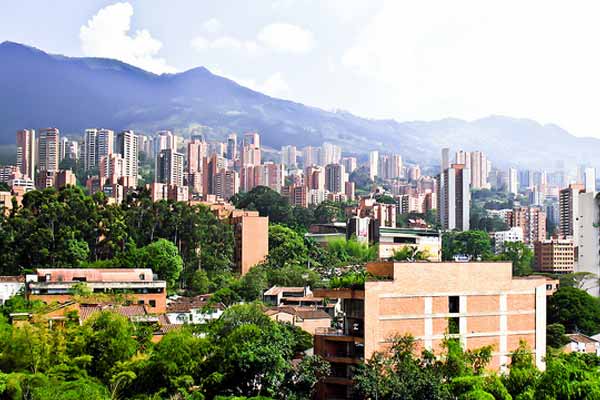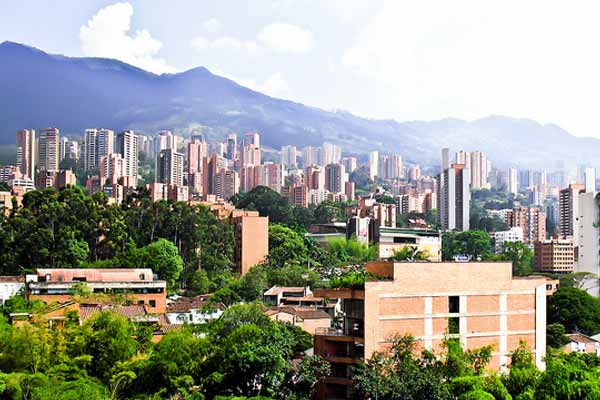 by Todd Hilton
Forget what you think you know about Medellín, Colombia. This vibrant and bustling city is one of the best kept secrets as a truly wonderful retirement destination. In the time it would take you to fly from coast to coast in the States, you can fly to Colombia where you'll find a retirement haven that is still ahead of the wave when it comes to expats looking for the best place to retire. Medellín offers you "big city" living at small town prices.
The pulse of this exciting city can be felt the moment you step out onto its streets for the first time. With an estimated population of 2.5 million, Medellín is no sleepy little hamlet. The city is broken up into six different zones: Northeast, Northwest, Center East, Center West, Surorien-tal , and Suroccidental. And, there are 16 communes (communities) spread out between those zones, each offering a slightly different feel and atmosphere than the other. Whether you're shopping at the ultra-chic and modern Centro Comercial Santfé in El Poblado, sipping a café lat-te at one of the many coffee houses found in Laureles, or browsing the thriving art scene in La Candelaria, Medellín has it all. And connecting all of these communes is one of the best metro systems to be found outside of the States with fares running you roughly 80 cents. Or jump in one of the many cabs found cruising the streets, and you'll be at your destination with only pay-ing $3 to $5 (depending on traffic).



There are many restaurants to be enjoyed within the city. From Italian food to Peruvian, and all the flavors in between, you're bound to find a delicious meal at prices that are a third of what you'd pay back home. A full course meal including drinks and dessert can run you on average of about $25 to $30 per couple for a fancier restaurant, while you'll find plenty of places to eat for under $15 per couple. Half the fun will be walking the streets in search of that next favorite "hidden jewel."
If enjoying a day at a museum is your idea of a good time, then look no further that the Museo de Antioquia in downtown Medellín. For less than $6 you can explore its many floors of art by famed Medellín native artist Fernando Batero, as well as many other local artists. When you've filled your senses by looking at the art, you can enjoy a lunch on the outside patio of the muse-um's cafe and enjoy an incredible meal for under $10, while enjoying your view of famed Botero Plaza. This is truly people watching at its best.
Finding an affordable place to stay in Medellín is easy to do, as apartments for rent are plentiful. Rents can run you in the range of $300 to $900 per month for a furnished apartment (depending on your tastes), with many apartments offering you modern amenities like a gym, or 24-hour gat-ed security. Some apartments offer spectacular views overlooking a beautiful cityscape that lights up like a Christmas tree in the evening.
There are condos and apartments to fit anybody's style of living. If the fast pace of downtown living is for you, then check out the commune of Buenos Aires. This area is just walking distance away from downtown, while still offering you that neighborhood feel. Or enjoy upscale living in one of the many apartments of El Poblado. With its high-end grocery stores like Carulla and Éx-ito to its retail lined streets, you'll forget you're not living in a city like San Francisco or Los An-geles.



Medellín may be the best retirement destination you have yet to discover.
Originally posted on 1 septiembre, 2020 @ 9:51 pm
(Visited 70 times, 1 visits today)